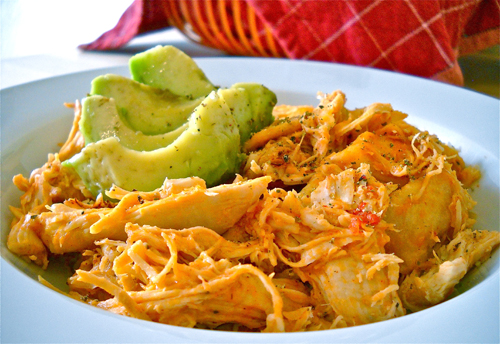 Yay, funny names and pretty pictures!
[Prep:  — /  Cook: 40 min]
Ingredients

–    a little over ½ lb (350) grams of chicken fillets OR 2 chicken breasts
–    6-8 flour tortillas
–    1 packet of instant tomato soup OR ½ can of tomato soup
–    ½ cup (120mL) of your favorite salsa
–    shredded cheddar or Mexican cheese blend (amount as desired)
Steps
Boil the chicken for 30 minutes.
While the chicken cooks, slice the tortillas pizza-style into about 8 pieces each. (speed tip: you can do them all at once)
Heat up a pan and toss the tortilla slices in. Heat them in the pan until they get a bit hard and crispy (see picture).
Strain the water from the chicken. Use a large wooden spoon to break up the chicken. If you mash and stir the chicken with the spoon, you will find that it shreds quite easily.
Prepare the instant soup if necessary. Add the soup and salsa to the chicken, stirring with spoon between additions so as to shred it a bit more. Add the tortillas and cheese and mix again. Heat the whole mixture for just a few minutes until the cheese melts.
[Serves 2]
Notes
"Crisping" the tortillas just helps to keep the mixture from becoming too soggy. Thus, I only crisp about half of them. You can do as many or as little as you like. You could also go uber-simple and use tortilla chips, but that can't be healthy …
This dish truly represents the messy & ugly but tasty principle of my cooking (hence the avocado "garnish" above), but it's much better than it looks.
This is another meal that keeps quite well, so make more and have left-overs 🙂
Suggested Sides
Cut-up an avocado with a dash of seasoned salt
Slice up some fresh kiwi or oranges
Pan-fry some corn and cherry tomato halves.
Variations
My mom would make this a meal-in-one by adding shredded lettuce with chopped onions and tomatoes on top. To that end, chopped onions would be a great addition to the mixture itself.
I have not had access to corn tortillas for YEARS, but they would probably be even better!
If this dish is just too unbecoming to you and you have the patience, you can make Tex-Mex lasagna. Make the entire mixture the same way, but do not crisp nor add the tortillas. Instead, line a small casserole dish (a 2qt round dish would be great) with the tortilla slices and add about 1/3 of the mixture on top. Make 2 more layers and sprinkle the top with some extra cheese. Then, bake in the oven for a few minutes until the cheese melts.
Tex-Mex lasagna and Italian tortillas in the same month. I must suffer from cultural confusion.