I don't have much to say about this one, except that it's a recipe I got from a blog I follow called No Recipes and it's super fresh and delicious. Now, unlike the cucumber salad a couple weeks ago, I really recommend taking the time to salt and drain the carrots in this one. It really changes the texture of the carrots and gives the salad a unique crunch.
[Prep: 20min* / Cook: –]
Ingredients
– 3 whole carrots
– 1 red onion
– 1 avocado
– 1 can of tuna
– sesame seeds
– sesame oil
– salt
*plus optional salting time
Steps
Rinse, peel and julienne or thinly slice the carrots.
Put the carrots in a bowl and lightly coat them in salt. Let sit for about half an hour.
Squeeze and drain the carrots to let out all the excess water.
Thinly slice the onion and peel and cube the avocado.
Mix the carrots, onion, avocado, tuna and sesame seeds in a large bowl and drizzle with sesame oil.
Ready to eat!
[Serves 2]
Notes & Variations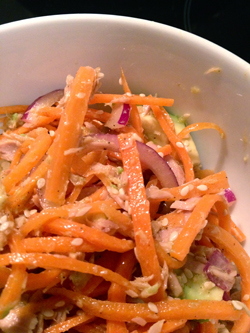 No matter how many tricks I look up, julienning carrots is quite difficult and time-consuming. A quick alternative is to use a peeler to make carrot shavings instead. Just peel the carrots down to nothing and either chop a bit with a knife or leave in long strands.
Or you can buy a bag of pre-shredded carrots or try running them over a cheese grater.
To round this salad out a bit more, I served it over couscous last time and it turned out really well.
Other mix-ins that would go well: pecans, walnuts, raisins, cabbage, bean sprouts