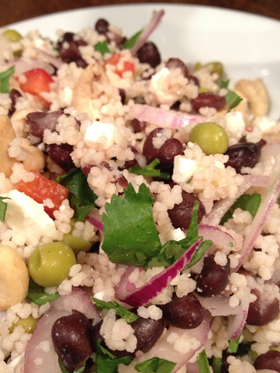 Back in Amsterdam, as a trade-off for making them go to bikram yoga, the guys starting making us girls go climbing with them. As much fun as it was to lunge for the final grip, slip and get a nasty crack of whiplash when I hit the ground, I have to say that one of the better parts of the climbing experience was the beer and food they served afterwards.
This is a couscous salad they served that we were all so fond of, even the guys started making it themselves at home.
[Prep: 15min / Cook: –]
Ingredients
– 1/2 cup dry couscous
– lemon/lemon juice
– 1 can black beans (~16 oz)
– 1 can green peas (~8 oz)
– 1 red onion
– 1 red pepper
– Feta cheese
– cashews
– fresh coriander (cilantro)
Steps
Boil water and put the couscous into a container with a lid.
Squeeze lemon juice over the couscous and add enough boiled water to the couscous to just cover the grains. Lightly cover with the lid and let sit.
Rinse and drain your beans and peas.
Chop or slice the onion and pepper. Cube the feta and coarsely chop the cashews and coriander (cilantro).
Uncover the couscous and fluff with a fork.
Mix all ingredients together in a big bowl.
Ready to eat!
[Serves 2-ish]
Recipe adapted from De Klim Muur climbing hall
Notes

Ingredients amounts are just a rough guide to start- which is why there's no guide for the amount of feta or cashews.
If you're not already familiar with making couscous, yes- it's really that easy to make and only takes about 5 minutes to absorb the water. It's also better for you than rice.
I usually heat my beans and peas in a pot before I mix them in because I prefer them with a bit soggier texture, but this really isn't necessary.
Variations
For those of you not as fond of cilantro as I am, the climbing hall actually uses parsley.
The original also didn't have black beans. I added them to up the protein-count. You could also try using soy beans or mixing in a touch of peanut butter/nut butter to add a bit more protein.
I also once made this dish with quinoa instead of couscous. Also fab and a bit less dry in texture.