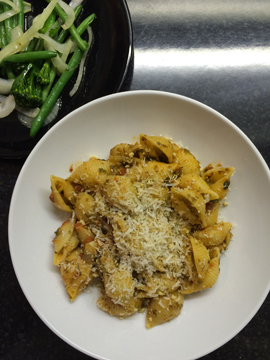 [Prep: <5 min / Cook: 20min]
Ingredients
– orecchiette (ear) or conchiglie (shell) pasta
– 1 – 2 cups fresh spinach* (1/2 cup frozen chopped)
– 2 cloves of garlic
– 1/2 onion
– 1 8oz can tomato sauce
– dash of crushed red pepper flakes
– salt & pepper
– breadcrumbs
– rosemary
– grated Parmesan
– olive oil
Steps
Bring a pot of water to boil and cook pasta according to package directions. Add the spinach during the last minute or two.
Meanwhile, chop the onion and the garlic and heat in a large skillet over medium heat.
Once the onions start to soften (2-3 minutes), add the tomatoes, pepper flakes, salt & pepper.
When the sauce starts to bubble and the pasta is finished, drain the pasta and mix in the sauce.
Top with breadcrumbs, rosemary and grated Parmesan.
[Serves 2]
Notes
*If using frozen spinach, de-frost the spinach in the pan first before you add the onions and garlic.
I derived this recipe from a basic orecchiette rapini recipe, which is often served with sausage. If adding sausage, use hot italian sausage and remove the casings before adding it to the sauce.
Also, the traditional dish uses broccoli rabe/rapini (which looks eerily like kailan) rather than spinach, but I find spinach a much more close-at-hand alternative.