This is a simple, and simply delicious chowder – a great first chowder if you've never made one before. It makes your whole kitchen smell like fish, but it's worth it. The recipe calls for Haddock, but any white fish would work just as well.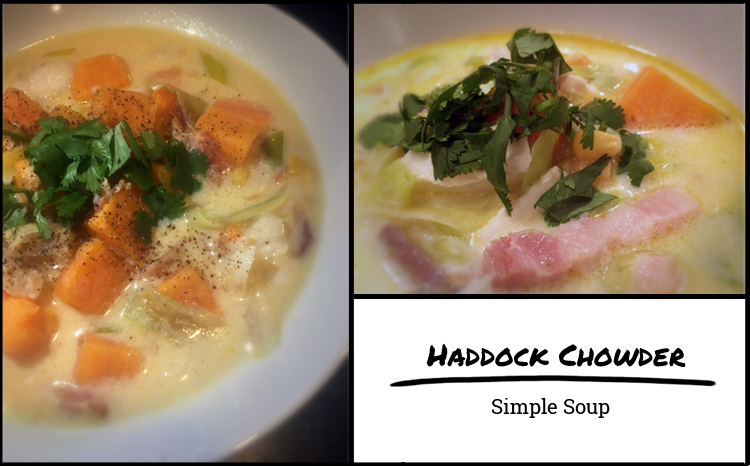 Haddock Chowder
Author:
ontheflyrecipes.com
Ingredients
2 haddock fillets
1 pint of whole milk
3.5oz/100g cubed bacon pieces (lardons or traditional bacon cut into strips)
1 leek
2 large sweet potatoes
1 cup/250ml fish or vegetable stock
small can of corn
cilantro/coriander leaves
Instructions
Put the fish and milk in a saucepan and simmer gently for 5 minutes to cook the fish. Then remove from the heat, flake up the fish a bit and set aside.
Meanwhile, slice up the leek, peel and cube the sweet potato.
Heat the bacon in the bottom of a large pot for about 5 minutes, then add the leek and potato for another 5 minutes.
Add the stock and simmer for 10 minutes until the potatoes are tender.
Add the fish, milk and corn and stir until heated through.
Serve with a little chopped coriander on top.