A playful twist on some traditional Tex-Mex flavors – use tortilla chips for a quick and easy, crowd-pleasing dinner. Bake like a casserole as described below, or pour the casserole mixture on top of crushed up tortilla chips for an easy taco salad.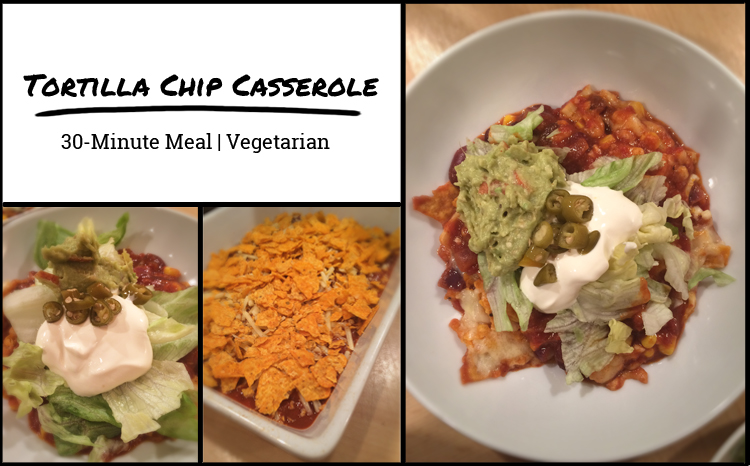 Tortilla Chip Casserole
Author:
ontheflyrecipes.com
Ingredients
Main dish
1 red onion
2 garlic cloves
2 tomatoes
chili powder
ground cumin
1 can red kidney beans in chili sauce
1 small can of corn
tortilla chips (ie: Tostitos, Doritos)
shredded cheddar
Toppings
Avocado or guacamole
Sour cream
Chopped coriander/cilantro
Fresh lettuce, tomato and onion
Rice
Pico de gallo
Jalapeños/Chilis
Instructions
Preheat the oven to 200C/395F.
Meanwhile, slice the onions, garlic and tomatoes and heat in a large saucepan with some oil for about 5 minutes.
Add in a dash of chili powder and cumin as well as the beans and corn. Stir and heat for another 5 minutes
Transfer to a greased baking dish. Top with crunched up tortilla chips and cheese and bake for about 10-15 minutes or until bubbly.
Top with any of the below and ready to eat!
Notes
This need not really be a casserole. Once you've heated everything through on the stove top, you can mix and match and serve it as you choose. For example, baking makes the tortilla chips a bit soggy, so if you added them after baking, you'd get more of a crunch.

Similarly, turn this into a taco salad by lining a bowl with crushed up tortilla chips (or Frito chips), then top with the mixture, cheese, lettuce, tomato and onion - or use the mixture inside tacos or enchiladas topped with sauce of your liking.

For a super easy, super speedy recipe, swap out all of the stovetop ingredients for a can of prepared chili (like Hormel) - vegetarian or meat as you choose.