Gnocchi is an Italian dumpling that can be made of various things, but most commonly potato or flour. Homemade gnocchi can be absolutely lovely, but prepared gnocchi is increasingly easy to find and can make a very quick meal.
This recipe is my very own and uses sausage and a spicy Arrabiata-like sauce. If you can't get Italian sausage where you live, sprinkle in or crush up some fennel seeds to make up for that lost Italian flavor. Then use hard goat or sheep's cheese (like Pecorino) to add an extra depth of farm-fresh flavor that you don't get from Parmesan.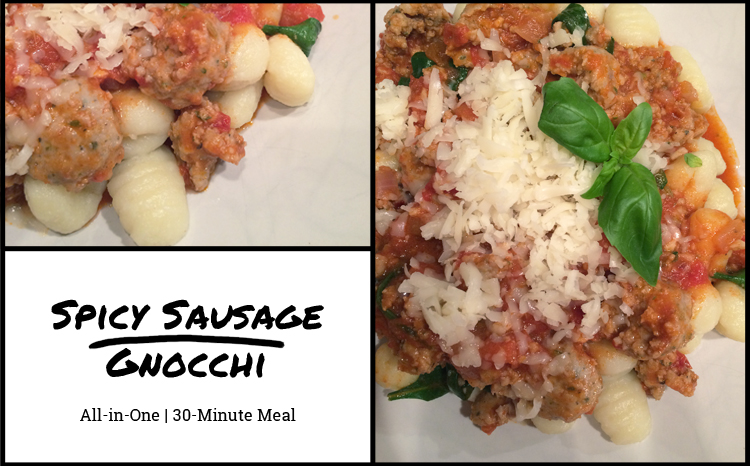 Cooking gnocchi is easy, but can be a bit annoying if not timed just right. To cook gnocchi, all you need to do is boil water and dump in the gnocchi for about 2-4 minutes until they float. Now the trick is not to drain them or let them sit before adding them to the sauce. They get really gloppy and sticky if you do. So it's a good idea to leave it right up until you need the gnocchi before you put it on, so you can move it with a slotted spoon straight from the pot to the saucepan.

Spicy Sausage Gnocchi
Author:
ontheflyrecipes.com
Recipe type:
Main Entrée, All-in-One Meal
Ingredients
550g/1lb gnocchi
450g/1lb sausage meat*
1 onion
2 cloves of garlic
390g/14oz (1 can) chopped tomatoes with basil
dash each of chili powder, chili flakes, paprika and ground ginger
handful of cherry tomatoes, sliced lengthwise (optional)
1-2 cups of fresh spinach
hard goat or sheep's cheese (like Pecorino) OR Parmesan
Instructions
Chop the onions and garlic.
In large saucepan or wok, brown the sausage with onion and garlic (about 5min). Once browned, add the chopped tomatoes, chili powder, chili flakes, paprika, and ginger. Turn the heat down and simmer for 10min.
Meanwhile, boil water and cook the gnocchi according to package directions.
Add the spinach and cherry tomatoes to the sausage and cook a further 2-5min until spinach and tomatoes just wilt.
Stir in the cooked gnocchi & take off heat. Top with freshly grated cheese.
Notes
The proportions here are meat heavy, which worked well for us, but for a more gnocchi-focused dish, you could get away with half as much sausage.

*Use the sausage heat/flavor of choice, but a tiny bit of spice makes this dish extra nice (like an Arrabbiata). In America it's easy to get sweet or spicy 'Italian' sausage, which would be my recommendation for this dish. One of the main distinguishing flavors of Italian sausage is fennel seeds, so when cooking this where Italian sausage isn't available, I add a sprinkling of fennel seeds when adding the spices.