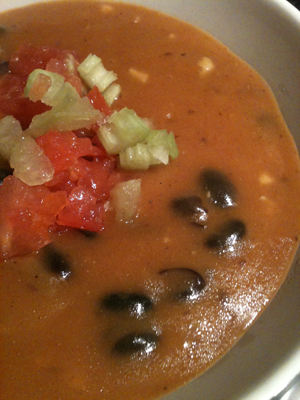 And now, in keeping with soups inspired by some of my favorite restaurants, here's one that I've loved about as long as I can remember- Chili's Chicken Enchilada Soup. Except, I mixed it up a bit, added some black beans and made it vegetarian (I know, shocker!).
[Prep: 10min / Cook: 30]
Ingredients
– 1/2 an onion
– 2 cloves of garlic
– 1 Tbs vegetable oil
– 1/2 cup of corn flour
– 2 cups of water
– 2 cups of chicken/vegetable broth
– 1/2 cup of enchilada sauce
– 1 cup (cubed or shredded) cheddar cheese
– dash each of salt, chili powder & cumin
– 1 can (abt 15oz) black beans
– pico de gallo (a little freshly chopped tomato, onion, chili and coriander)
Steps
Chop onion and garlic. Add to a large pot, lined with the vegetable oil, and saute for a few minutes over medium-high heat.
Meanwhile, in a large bowl, mix together corn flour and 1 cup of the water.
Add broth, flour mixture, enchilada sauce, cheese, spices and remaining water and bring to a boil.
Reduce heat, add beans and simmer for 10-15 minutes.
Top with pico de gallo and ready to eat!
[Serves 2]
Notes
For the original recipe, add cooked shredded or cubed chicken instead of (or in addition to) the black beans.
If you live somewhere where you don't have easy acces to prepared enchilada sauce or an enchilada sauce mix, you can make your own exceptionally easily using tomato sauce, cumin and chili power. See this easy-peasy 10-minute recipe here (it's the one I actually used).
This soup does not keep incredibly well- or at least, it really solidifies after it cools. For best results, add extra water when reheating.