This recipe is mostly about the vegetarian 'tomato sauce' base. I've always been on a quest for a decent protein-rich veggie pizza and this sauce is now one of my best tricks. Top the pizzas however you would like, the ingredients here are just a start.
These can make a great appetizer, but also can be served on their own as a full meal or as a main dish with a side salad.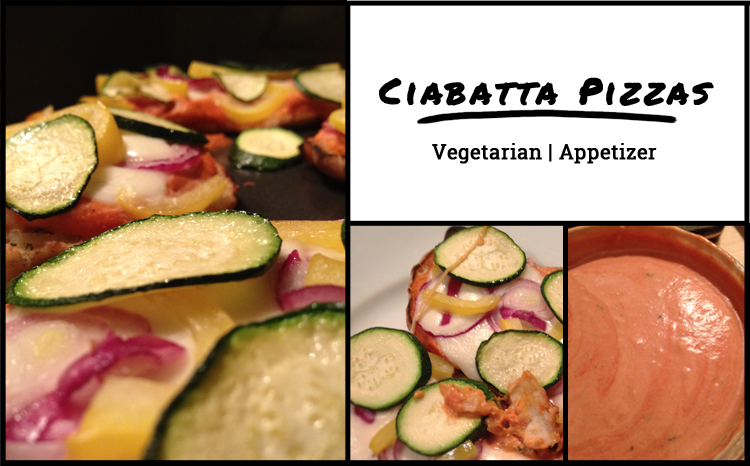 Ciabatta Pizzas
Author:
ontheflyrecipes.com
Ingredients
2 large ciabatta loaves
2 medium courgettes (zucchini)
1 red onion
1 Tbsp olive oil
8oz/220g hummus
6oz/170g can tomato paste
sliced black olives
cheese(s) of choice (mozzarella, ricotta, mascarpone, etc)
Instructions
Preheat the oven to 180C/350F.
Slice ciabatta in half. Leave them this size for large "pizza" slices or cut down to smaller bites as desired. Pop in the oven for about 5 minutes to crisp up.
Thinly slice courgette and onion. Pan fry in olive oil over medium-high heat for about 5 minutes until the vegetables start to soften.
Meanwhile, stir together the hummus and tomato paste until evenly mixed.
Assemble the pizzas: spread the hummus mixture on each slice and top evenly with courgettes, onions, olives and cheese.
Bake for 15 minutes until cheese is bubbly.